(Last Updated On: July 13, 2020)
Let me honestly tell you that there is no such thing as passive income you need to work hard for it,
invest capital and time in setting up the business and eventually, the business will look after you.
Say a real estate investor, for example, he is earning income through rentals but, from time to time he might need to do some minimal work ( like fixing a broken toilet or writing a tenancy agreement) but once the business is set up it will be much easier compared to when the business is just starting.
Owning a business is one of the crucial tenets in achieving financial freedom.
If you are not willing to sacrifice your time, money, and effort in starting a business.
Then you won't achieve financial freedom, you might as well become an employee for the rest of your life. There is no such thing as a quick rich scheme. There is no such thing as luck, you need to make it happen.
Let's explore what kind of business you should start as an employee if you want to become financially independent.
Defining financial freedom
Financial freedom is a state where your passive income is greater than your expenses. For example, if you earn 10,000 pesos per month passively and you have expenses of 6,000 pesos, you are then financially free.
You can invest your money in other businesses, travel, or quit your job.
To be financially free, you need to own assets that pay income each month. The easiest way to acquire them is by making investments, like:
Rental properties
Real estate investment trusts (REITs) not available in the Philippines yet
Monthly income stocks
Why you need a business
The problem is that these investments cost money. If you're like me and, you don't have the capital to invest enough to become financially independent, you need to create an income-producing asset.
That means starting a business.
Note: you don't need a full-time business. Part-time is fine, too.
What kind of business to start
The best businesses to reach financial freedom are ones that can be leveraged. That is, they can use other people's resources (time, money, skills, systems, etc.) to profit. With enough leverage points, you can eventually walk away from your job and earn passive income from it.
For example, imagine that you are a web designer or a Virtual Assistant  You can help other business more visible online by creating and maintaining their websites.
Now you might be thinking a VA, Virtual Assistant?
Business?
Yes, being a VA is like having your own business.
Because you need to sell your service to potential clients.
Think of it as a contractor, you need to actively pursue clients in order to get work and get paid.
It's a good way to start if you don't have the money and resources, but if you want to earn passive income from it, you need to be more creative, besides you can only do so much on your own.
A well-leveraged model would be to start collecting email subscribers.
Email Marketing is a good strategy when creating a business, big and small business can benefit from it.
Read My Blog On How To Build An Online Marketing Business Using Email Marketing
For $10 per month, or you can get this for free. Your clients can receive emails with industry secrets on how to manage their own website so they will no longer rely on other people to look after and maintain their website, thus saving them money.
By doing this you can charge them a monthly fee. Eventually, you could automate your business and work only a few days a year from your computer.
Basically, you are selling the same service.
The difference is in the approach.
One model just combines your time with your experience. You've basically created a job for yourself.
The other model lets you draw from multiple pools of resources, including:
Email subscription services for your emails
Online payment processors to collect subscriptions
Websites to capture leads
Marketing software to build effective promotional campaigns
To figure out whether your business idea can be leveraged properly, ask yourself this: "If I work hard for 5 years, can it eventually become passive?"
If so, your plan might involve:
Hiring employees
Working with contractors
Using a website/ software
Implementing effective systems
If you think you'll have to spend a lot of time on your business forever, it won't be conducive to financial freedom.
You'll either need to accept that or start a different venture.
Connect passion with profit
Running a business, especially in the early years, can be hard.
It takes effort, commitment, and consistency.
It's also tempting to try out new ventures when it seems like your current one isn't progressing.
It's important to be passionate about your business. That will help you avoid the distraction of "jumping ship" to the next exciting idea, which is a huge mistake that people make.
Being passionate will keep you motivated and will help you deal with the stress and pressure that can come with entrepreneurship.
To be sure, you don't have to love your business. But you should sell products or services in industries that you enjoy.
Have an online component to your business
Over $2 trillion of shopping is done online each year.
Online businesses are not the future, they are the present.
That's why many large retailers and traditional stores are struggling to survive.
Even companies like Walmart in the U.S, which occupies tens of millions of square feet of real estate, has invested heavily in its internet sales.
Firms are able to establish trust and build relationships with their customers over computers and smartphones. The value of face-to-face meetings, which can be time-consuming and expensive, is quickly diminishing.
Your business should have an online component. At the very least, your website or online platform should help you contact potential customers. At best, you should be able to sell directly to them on the internet.
Adding an online component can help you:
Reach customers internationally
Lower operating costs
Earn income while you sleep (literally)
"But I have no internet experience"
Not having experience is not a problem anymore. Hundreds of companies exist to do the brainy stuff, like coding, for you.
For example, I built this website in late 2016 with a free platform called WordPress.
I know nothing about websites so I need to watch tons of videos, read blogs and books, and hire freelancers to set up my website.
After 4 months I had a live blog. I know nothing about coding or computer programming. I don't know how to write articles too.
Websites have endless leverage points. You can do all of the following for free:
Launch an online store
Capture prospective customers
Drive traffic to your site
Email your leads automatically
Accept payments online
"What business should I start?"
You might be racking your mind for business ideas as you scroll through this article. The hardest part of this process is starting from scratch.
There's one business model that I strongly recommend. It has all of the following advantages:
You just need an internet connection
It costs almost nothing to start
It has hundreds of leverage points
You can operate internationally
It can become passive
You might have heard of it before. It's called:
Online Information Business
An Information business simply means you provide valuable information to people who are seeking that information, like this blog you are reading, you might be looking for a particular business idea and you landed on my website.
How it works
You set up a one-page website, collect email subscribers, and offer them your service.
When somebody purchases the product from you, you don't need to ship them the product as this can be downloaded by your buyers.
In this kind of business, you can sell e-books, audiobooks, training, and seminars all can be accessed online which is really convenient for you and your buyers as this can be accessed anywhere in the world as long as there is an internet connection.
Consider an online store like Amazon for example.
They sell many products but they started selling e-books and grow from there. Amazon is a juggernaut now as a business in the U.S but they started as an online information business.
If you offer good products that solve other peoples problem, you can develop a reputation. You can also scale the business by hiring staff and using effective internet marketing.
How you can start an online information business
There are a few components involved You need:
A website
Products to sell
People to visit your website
If you wanted to get into this business download my FREE e-book above or check it out HERE 
Conclusion: the best businesses to become financially free
You are miles ahead of most people if you recognize that you need a business to be financially free. Whether you're trying to build wealth young or are at a more advanced age, this is the right path to take.
Give yourself five years to work hard on your venture and gradually turn it into a passive income asset.
The time to start is now. START HERE NOW.
Summary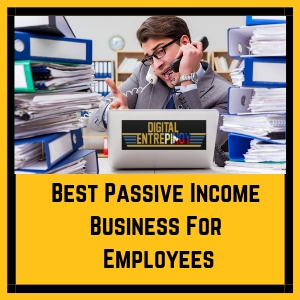 Article Name
Best Passive Income Business For Employees
Description
There is no such thing as passive income you need to work hard for it, invest capital and time in setting up the business and, the business will look after you. Owning a business is one of the crucial tenets to achieving financial freedom. If you are not willing to sacrifice your time, money and effort in starting a business. Then you won't achieve financial freedom, you might as well become an employee for the rest of your life.
Author
Publisher Name
Publisher Logo