(Last Updated On: June 22, 2021)
Are you thinking of starting an online business and be financially free? Free from the shackles of the corporate world and kick your boss out of your life. Have you tried selling ebooks online?
But, let me ask you first
Do you want more quality time with your loved ones?
Or just wanted to earn extra to help with the family expenses?
Have you tried other businesses but failed?
You can find all the answers to this question if you just read on……….
Forbes estimates that the digital publishing industry is worth 183 billion dollars in 2018
And that's still true. In fact, sales of e-books hit $9 billion in 2015.
This is a profitable business that is why Amazon, Apple, and Google created their own marketplace where people can buy and download e-books.
You don't need to be a company the size of Google and Amazon to be in this business, in fact, you can start this kind of business just with a laptop and internet connection and you don't even need to be a writer. Can you imagine if you can just capture a tiny percentage of this market you can make millions!
Having something of your own to offer, even a simple 250 peso e-book is a great way to make money online, and e-books are only the beginning because if you start this business many opportunities will open.
We all know that some fiction authors are making a killing selling digital-only books on Amazon.
But that's not what we'll be talking about, but the other type of e-book — the traditional "information product" designed to teach something valuable.
Let us say, for example, you are a photographer and wanted to teach people how to shoot you can write e-books about how to shoot in natural light. Or, say you are a fitness trainer and wanted to sell an e-book about how to lose weight by doing a certain exercise. Or you are a stay-at-home mom and you tutor your own kids and discover an effective way how to teach your kids to learn mathematics the easy way. The possibilities are endless and if you noticed the people that I mentioned they are not experts; they are ordinary people like you and me
The key to any successful e-book is:
Great design
Incredible usefulness
Excellent value for the investment (time or money).
You can start this kind of business on the side while having your full-time job. All you need is at least 2 hours of your day to make this business profitable.
Now, everybody can make e-books, just open up your word doc on your computer, type in your ideas put some images and then you got an e-book, Presto! The question is will that e-book make money?
That's a tough one to answer. You can always try but it will be a long journey ahead plus it will be costly. It will cost you time and money as you will experiment with different things chances are you will quit and tell yourself, making money selling e-books does not work.
If you wanted to enter this kind of business, you need to follow other people who done and are doing the business. You can google your way to find the answer but it's tough luck.
Building a business selling ebooks is a process you need to know the system to do it.
A car is built using a proven system, will you build a car by yourself?
An e-book will be easier to sell and market if it's based on what the market wants and craves. It's also a sensible strategy to sell your e-book online WITHOUT being a "pushy" salesman. Unless you want to be a spammer and get banned from Facebook.😱😱
I have done training and courses before that cost me thousands of pesos to enroll in; The reality is courses are a great way to know the ins and out of the business but it won't guarantee success in this business.
Many people think attending expensive courses will give them the answer to making money online, only to disappoint them that after finishing the course there are many things that need to be done before they can even start in this business.
Reality Is Websites, Domains, Autoresponder, Hosting is needed in this kind of business and it requires money to invest in those.
I know for many people what I mentioned sounds like rocket science but believe me; you need those.
So why did I invest in this kind of business?
I talk about cost, cost, cost. And you might notice that I am skeptical about this kind of business. I am NOT, what I am mentioning here are the things you need to be aware of so you are prepared if you decide to start this business.
There is no such thing as a FREE Business. In this business, you need to invest capital.
Remember this is a business that I am talking about, not just like selling longanisa to your officemates.
And compared to a traditional business, an eBook business requires much less capital, and much fewer hours to maintain, and some of the tasks can be automated.
Personally, I rather have this kind of business, rather than having a traditional business. Because Its less risk and the rewards are high.
If you wanted to blow your money in expensive courses no problem with me, it's your money anyway not mine, But if you wanted to know this ebook business before you pour your hard-earned money into it. Download my FREE E-book below.
This is an opportunity to create a business that requires minimum capital and have a business while having a full-time job. 
The question now is how badly do you want to change your life? It's up to you If you take action!
Don't wait for the heavens to open and give you a life that you want, the life you want depends on the action you do to make it happen. Download My FREE E-Book Above.
Summary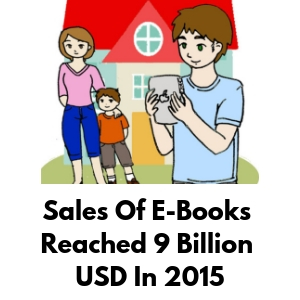 Article Name
Can You Really Make Money Selling E-Books?
Description
Sales of e-books hit $9 billion in 2015. It's a profitable business, Amazon, Apple, and Google created a marketplace where you can buy and download e-books. You can do this...
Author
Publisher Name
Publisher Logo