(Last Updated On: March 17, 2021)
How to Have An Online Business On The Side Earning 40k A Month While Having A Full-Time Job.
Are you an employee? And looking for a legit side income?
Are you struggling with your finances?
Do you want an online business on the side earning income every month while employed?
Every month you need to pay bills, educational expenses for the kids, house rents, credit card bills, etc.
Expenses are all over, you need to keep up, but the reality is income from employment is not enough. It doesn't matter if you are a manager, a supervisor, or a secretary.
You're working abroad an OFW, or in the Philippines, it still applies.
I am not telling you to quit your job. That's a wrong move. Instead, have a backup income source to help you with your expenses.
My name is Butch, and like you, "isa rin akong empleyado."
And the company I am working for was bankrupt three times. Luckily another company took over.
That is why I still got a job.
For the past eight years, I have worked with three companies and managers that I forgot their names and faces because they keep changing.
Some companies will take out some of our benefits until we only got the minimum.
In a way, I understand because they need to be profitable to pay our salary.
WHY SHOULD YOU NOT ONLY RELY ON YOUR JOB FOR INCOME?
   1. Its obvious, permanent employment is getting harder and harder to find.
Big companies are cutting back employment to keep the profit.
   2. The so-called first world economy, like the U.S, Canada, Japan, and Europe are bankrupt.
I am not an economist but based on their GDP growth or gross domestic product. 
According to google, GDP is a monetary measure of the market value of all final goods and services produced in a period (quarterly or yearly) of time.
 Nominal GDP estimates are commonly used to determine a country's economic performance and make international comparisons.
These countries are only growing by 1 to 2%.  And their debt is much more than what they are earning.                                                                                                                                           
Ibig sabihin mas marami silang utang kaysa sa kinikita nila, that's why they're bankrupt.
  3. You're only part of the numbers.
As an employee, no matter how good you are at your job, if your service is no longer needed, then it's time to let you go. It's not your manager's fault to end your contract when the time comes.
Your manager is also an employee of the company and just doing his/her job.
The reality in business is profit matters.
If a branch or division is not profiting, then it's time to close it. As simple as that. If you read or watch the news, you see many layoffs here and there.
4. The threat from technology.
Have you heard of A.I or artificial intelligence? Soon robotics will replace some jobs you are doing.
Before you got the secretary's answering phone calls, now you can do that with voicemail.
And you can answer some basic questions from your clients without you doing it using Facebook messenger chatbots, and they can do it on autopilot.
Today, they are developing driverless cars, Google, Tesla, and Apple are in that market building cars of the future, next time na mag book ka ng uber baka yung sasakyan mo wala ng driver.
For all these reasons, I don't trust my job anymore, because I know one day I will lose it.
No matter how much effort I put in to and give my best, I am only part of the numbers, and when the time comes, I am not needed, then they can tell me, sorry, but you are not needed anymore that's the reality.
I still perform my responsibility as per company standard. But now, I think about myself and my family.
That's why I put time and effort into creating a system that allows me to have a side hustle after my work and have a business on the side, earning income on autopilot.
The hardest part of having a business while being an employee is finding the time.
Pagod na pagkatapos ng trabaho, wala ng oras kailangan pang maglaba , magluto etc. You know what I mean
So I gave up barkada time, and TV and teleserye time, and I prioritize.
According to George Ross – Donald Trump's Right-Hand Man, " Entrepreneurs fail because they don't prioritize their time."
What Did I do to create income even I am in full-time employment?
I created my own online business.
If you're confused but wanted to start an online business and earn extra income, you can Start An Online Business In The Philippines, Kahit Nalilito Ka, Kung Paano Magsimula. 
It's not a quick-rich scheme because there is no such thing, this is not a scratch card system na pupunta ka sa lotto outlets bibili ka ng scratch cards hoping you will win.
If that's you, then this kind of business is not for you.
This business requires me to put time and effort, but it gives me a guaranteed extra income by just using my passion and expertise, and all I used to start is a laptop and internet connection.
And I only spend 2 to 3 hours of my time in a day to make this work. The more time and effort I put, the better the result.
Do you want to learn how I started?
The good thing is you can get this for FREE, Walang bayad o credit card required.
There is no easy way to earn money.
I am earning now in this business because I put the effort and time and took action to make it work.
If I did not start, then you won't be reading this blog post.
Grab your copy now for FREE by clicking the image below.
Summary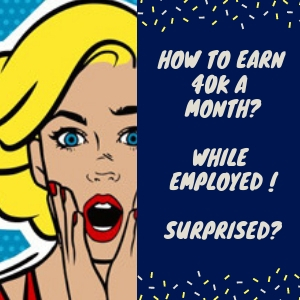 Article Name
How To Earn 40k A Month While Having A Full-Time Job.
Description
How to Have An Online Business On The Side Earning 40k A Month While Having A Full-Time Job. Are you an employee? Are you struggling with your finances? Do you want an online business on the side earning income every month while employed? It doesn't matter if you are a manager, a supervisor or a secretary. You're working abroad or employed in the Philippines.
Author
Publisher Name
Publisher Logo